Berlin Workshop January 2014
The workshop
Berlin, 16-17 January 2014
Die Hessische Landesvertretung
https://stk.hessen.de/die-hessische-landesvertretung

Visualizzazione ingrandita della mappa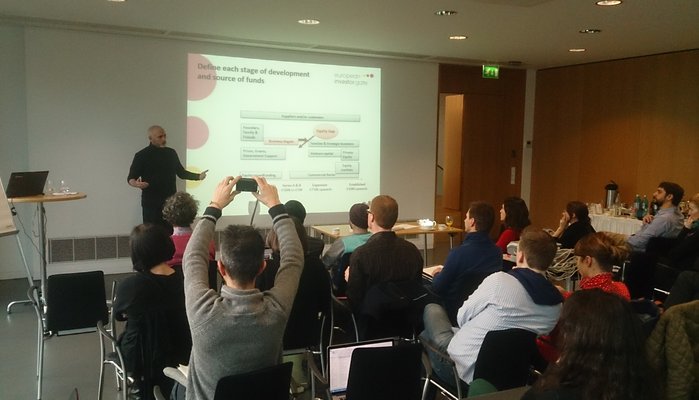 This workshop was designed to shake-up the ideas, give access to the creative resources of all winners and expand their creative potential in a collaborative environment. The coaches assisted the ideas in getting prepared for the expert consulting based on a solid basis, by building their capacity to challenge their own ideas and work efficiently and creatively on their strategy planning.
Objectives
Better shape the ideas in order to become more attractive to potential financiers.
Gain confidence for the future presentation of the ideas in front of funding sources.
Expand the potential of the ideas in a climate of innovation and creativity in groups, teams, networks, ventures.
Build up trust in collaborative and interactive environments.
Receive input and general strategic directions, which will result in personalized roadmaps.
Workshop 1 – Creative Teamwork, Creative Thinking
| | | |
| --- | --- | --- |
| | | Effectuation Principles: A new logic of thinking and planning, used by expert entrepreneurs to build successful ventures. How to think and act in uncertain and unsecure environments. Causal Thinking vs. Effectuation. Invitation to a radical change of planning: "The Fridge Approach". |
| | | |
| --- | --- | --- |
| The Competing Value Framework: A helpful model to guide yourself and build up creative and collaborative teams. Which skills are needed to meet the challenges of complexity, ambiguity, and paradox that characterize the world of today?. | | |
Klaus Haasis
is a certified Systemic Coach and Personcentered Counsellor with degrees in media engineering and journalism. He is committed in supporting and coaching entrepreneurs, executives, and clusters in innovation management and creative thinking, and he is a business angel through his company Combine Innovation GmbH.
Workshop 2 – Creative Business
• Business modeling: For whom are we creating value? Who are our most important customers?
• What value do we deliver to the customer? Which customer needs are we satisfying?
• Which are our revenue streams, if any?
• How to present/pitch your idea?
• All participants filled in their business canvases, with the help of the coach.
Juliane Schulze
is Senior Partner at peacefulfish, providing business services to the audiovisual industries. As Executive Advisor she holds an extensive cross-industrial knowledge, specialising in film financing, business consulting for film production companies, strategic advisory for funding institutions and media regulatory authorities.
Workshop 3 – Creative Money
• Knowledge Base required to manage a creative and/ or technical project
• How do investors evaluate creative projects?
• Sources of Finance: how to best choose them, approach them, use them?
Eugene Smyth
is commercially aware, excellent at negotiating contracts and engaging in business development. Experienced in restructuring, turnarounds, fund raising from private equity and venture capital firms, performing acquisition due diligence and trade-sale negotiation, particularly with starts-ups and SMEs.
Networking Dinner at Solar
This special networking dinner brought our winners together with experts and key contacts from cultural sectors, IT, politics and the EC.

List of guests for the Networking Dinner:
Brieler Claas  Jazzanova
Dastig Marin Investmentbank Berlin Brandenburg
Dorner Thomas Investmentbank Berlin Brandenburg
Favrat Vincent Just Temptation
Göring  Ina Medienboard Berlin Brandenburg GmbH
Herger Wiebke Medienboard Berlin Brandenburg GmbH
Holzmaier Nadja Tagesspiege
Höß  Karla European Federation of Game Archives, Museums and  Preservation Projects
Kirch  Doris Film Producer
Knippel Patrick  Schmitz Katze
Koenig Sandra Screen Nation
Kreyes Kristian Investitionsbank des  Landes Brandenburg
Liebe  Michael DGT  Deutsche Gamestage, Medienboard, DIGAREC
Monitor  Bernd Business Angels Club Berlin
Pagel Julia NEMO
Robert Marc  Peacefulfish
Rose  Kai Dr. EIT ICT Labs Germany GmbH
Schaefer Ralf Fraunhofer Heinrich Hertz Institute
Schmidt  Erwin M. NEUE ROAD MOVIES GmbH
Selander  Sten Media Evolution & canwz.com
Spicer Isabelle Le Journal des Arts
Walther  Ingrid Senat Berlin
Weimer  Alex MovieBrats Films & Animation
Programm Detailed Agenda http://www.at-diversity.eu/footage/agenda_for_@diversity_workshop_in_Berlin.pdf